Sep 28th 2014
The Triumph of Karel Appel
The Dutch furniture designer Martin Visser was the first collector to recognize the importance of the Cobra movement. Visser knew Karel Appel and his friends when they had just begun their careers, and were living in extreme poverty, with no recognition from the art world. Visser recalled that he was shocked by the young artists' living conditions: "There wasn't even a toilet. I couldn't believe how these young men managed. It was a very different way of living, but it didn't disturb them in the least." Visser was impressed by Appel's spirit and daring. "Just wait and see," Appel once said to Visser, "we are going to be famous one day."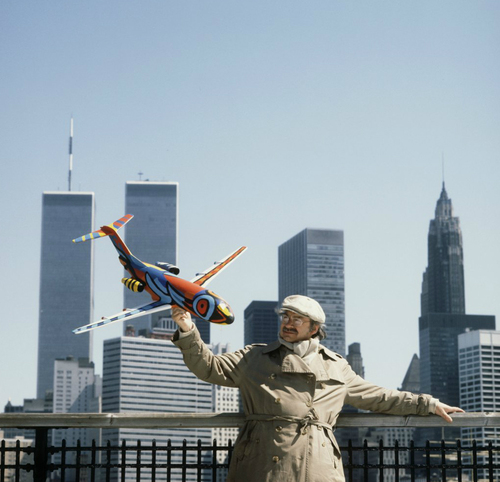 Photo of Karel Appel by Nico Koster (ca. 1983).
Image courtesy of the Stadsarchief (City Archives), Amsterdam.
Appel was of course right: well before he died in 2006, he had become not only famous but rich. And today, with Amsterdam's two great museums finally finished with their renovations, visitors to Appel's native city can enjoy the evidence of Cobra's, and Appel's, triumph.
The renovated Rijksmuseum devotes two full rooms to Cobra, as does the renovated Stedelijk. In Amstelveen, the Cobra Museum is fully dedicated to the revolutionary movement. And often overlooked, the Ambassade Hotel devotes all eleven of its stately canal houses on the Herengracht to the beauty of Cobra.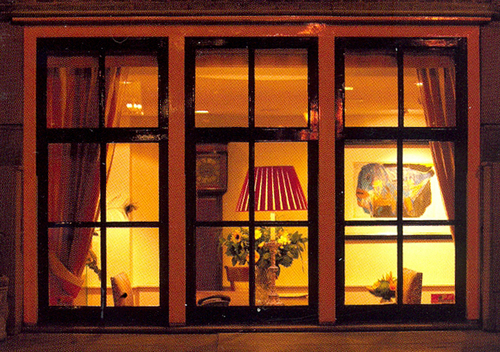 Karel Appel's Animal (1953), seen through the front window of the Ambassade Hotel.
Image courtesy of the Ambassade Hotel, Amsterdam.
Among these many exhibitions, Appel's achievement is recognized by masterpieces. The entrance to the Stedelijk features his 30-foot mural of 1956 for the museum's old restaurant, including a glowing stained-glass window. A large room with 20 Cobra works includes one of Appel's greatest paintings, Man and Animals of 1949, and next to the room is the Appel Bar, a mural on all four walls and ceiling originally painted for the foyer of the Stedelijk.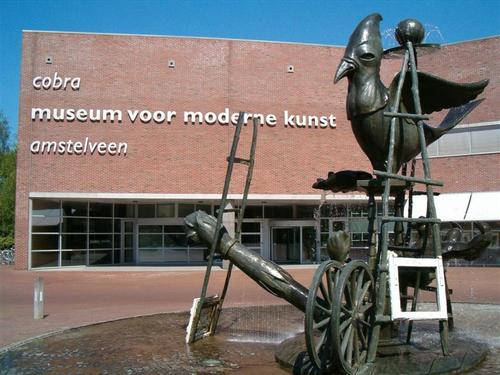 Karel Appel, Fountain (2001). Image courtesy Wikimedia Commons.
Appel's enormous Fountain of 2001 guards the entrance of the Cobra Museum, its imaginary rooster towering high above the sidewalk. Inside the museum, major paintings by Appel include Two Figures (1954), and Composition with Animal Figures (1951).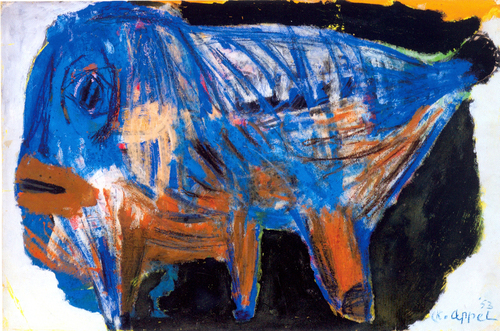 Karel Appel, Animal (1953). Image courtesy of the Ambassade Hotel, Amsterdam.
The lobby of the Ambassade Hotel features a magnificent Appel gouache, Animal (1953) - a three-footed fish monster, in beautiful blues and greens. Further along, in the hotel's Cobra Lounge, is a small Appel drawing from 1948 of his trademark ghostly figures.
Karel Appel was a master of both color and form. His vivid imagination constantly yielded new species of animals and ghosts, that lived peacefully together in a world that he created from the earlier discoveries of Picasso, Kandinsky, Miró, Klee, and Dubuffet. He was one of the giants of Dutch modern art, alongside van Gogh and Mondrian, and his greatness is now fully recognized in his native land and beyond.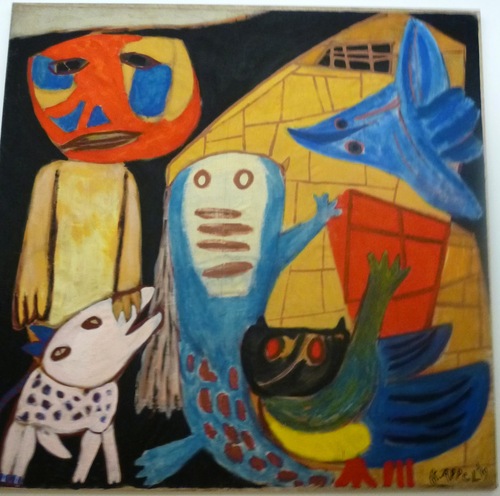 Karel Appel, Man and Animals (1949).
Image courtesy of the Stedelijk Museum, Amsterdam.
In Amsterdam, I met the famous photographer Nico Koster, who was a friend of Appel's for more than five decades. Koster laughed as he emphasized that Appel's early confidence was neither bravado nor a pose: "From the very beginning, Karel had no doubt that this work was something completely new, and that in time it would come to be recognized as important." Visitors to Amsterdam today can fully enjoy the results of Appel's confidence, and of his creativity.