Jul 10th 2014
Barry Mann, Cynthia Weil, and the Persistence of Experimental Popular Music
The summer of 1961 was one of my favorites: Mickey Mantle and Roger Maris were hitting home runs, Whitey Ford was winning games, and "Who Put the Bomp" was a big hit on my transistor radio. I didn't usually like novelty songs, but I liked "Who Put the Bomp;" I think I realized that whoever wrote it really loved pop music, so the parody was an affectionate one. I now know that the song was written by Barry Mann and Gerry Goffin, and I've only recently begun to realize why it is that I know so little about artists whose work I am so familiar with.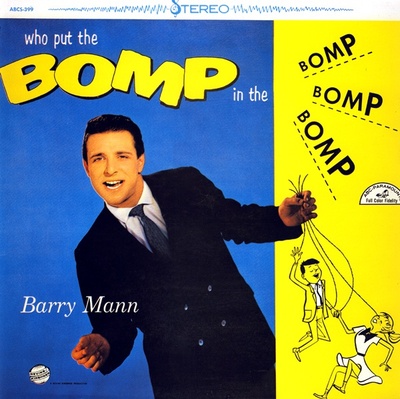 Album cover of Barry Mann's recording, "Who Put the Bomp (In the Bomp, Bomp, Bomp)." ABC-Paramount Records (1961). All images courtesy Wikimedia Commons.
In the '60s, when my radio went everywhere I did, Barry Mann and Cynthia Weil wrote some of the decade's classic popular songs of innocent teenage romance, including the Paris Sisters' "I Love How You Love Me" and the Ronettes' "Walking in the Rain." But they also wrote songs with tougher messages, including the Drifters' "On Broadway," the Animals' gritty "We've Gotta Get Out of This Place," and the Righteous Brothers song with one of the most famous opening sentences in the history of popular music: "You never close your eyes any more when I kiss your lips." The diversity of these songs, and of the performers who recorded them, set a pattern that Mann and Weil continued throughout a long and prolific career.
Earlier this year, I wrote an article about Burt Bacharach, prompted by the publication of his memoir. Two weeks ago, I wrote an article about Gerry Goffin, on the sadder occasion of his death. In the wake of that article, I realized there was a gap in my thinking about the history of popular music. For some time, I have thought of the early 1960s as the time of a conceptual revolution in popular music, as Bob Dylan, then Lennon and McCartney, broke from the traditional, experimental art of the Golden Era to create a new kind of popular song. The clear, simple, universal songs that had been created by songwriters who considered themselves craftsmen, and prided themselves on their skillful use of language and music, were swept away by songs that were deliberately not simple, clear, or universal, but were instead intended to express the personal attitudes and emotions of writers who considered themselves artists, and often disdained sophistication in either language or music. Golden Era songwriters wrote for professional performers, but the conceptual songwriters of the '60s wrote for themselves - songs only they were intended to sing, and very often that only they were intended to understand. Conceptual singer-songwriters dominated the rankings of the best popular music from the '60s on, as judged by Rolling Stone and other industry publications.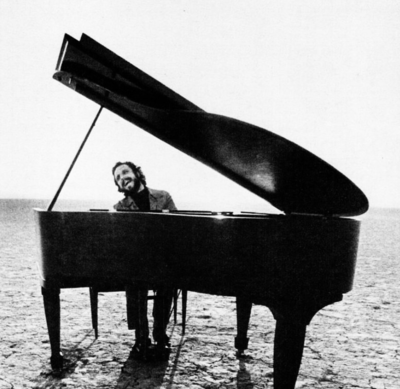 Barry Mann (1974).
But writing about the music of Burt Bacharach, and that of Gerry Goffin and Carole King, made me think back, and realize that experimental popular music not only remained in existence in the '60s and beyond, but continued at a high level. It was somewhat under the radar: it didn't create the excitement of the shooting stars who suddenly appeared, and often equally suddenly disappeared, and it didn't gain the critical attention, especially from scholars, that was lavished on Dylan, the Beatles, and their successors. But I knew from countless hours of listening to popular music on the radio that Bacharach and Goffin and King were heirs to the great experimental songwriters of the Golden Era. And so were Barry Mann and Cynthia Weil. They are still a bit shadowy to me. My university's library has scores of books about Dylan and the Beatles, and it also has significant - though smaller - numbers of books about Irving Berlin, Cole Porter, Richard Rodgers, and their peers, but Bacharach and King are represented only by their own memoirs, and Goffin, Mann, and Weil not at all. It is difficult for me to think of any other artists whose work I have enjoyed so much and about whom I know so little.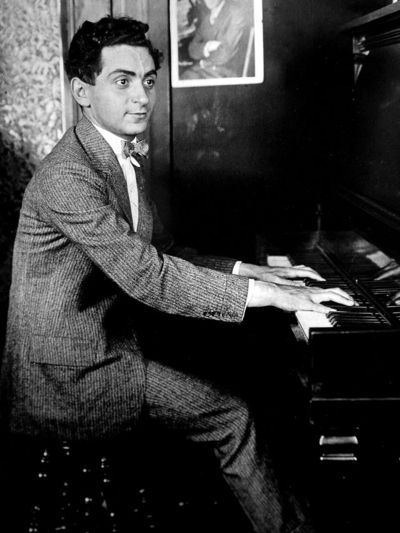 Irving Berlin (1906).
In interviews, Mann and Weil have consistently expressed attitudes that are characteristically experimental. In this they have closely followed such earlier songwriters as Irving Berlin. Berlin consistently stressed that his art was the product of hard work: he scoffed at "this legendary stuff about great inspiration in popular songwriting. If you're a professional, you sit down and write." Mann agrees: "If I waited for inspiration every time I sat down to write a song, I probably would be a plumber today." Berlin said that he was always uncertain and anxious when he worked; Mann reported that "Cynthia always said that songwriters do something that they don't know how to do." Experimental artists improve their art over time, as they develop their skills: Berlin often spoke of sharpening the tools of his trade, and dismissed his early songs - "they were not only bad, they were amateurish." Again, Mann agreed: "If we look at a list of songs we wrote, going back to the sixties...the first twenty-five weren't so good, then all of a sudden number twenty-six, number twenty-seven and number twenty-eight and number twenty-nine were really terrific...Not every one of our songs was great, but at that point we were learning. It was a kind of school for songwriters."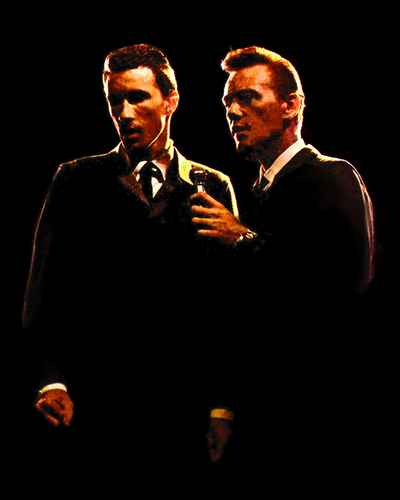 The Righteous Brothers (ca. 1965).
Mann and Weil came of age in the '60s; in addition to the songs mentioned earlier, they wrote such hits as "Kicks" for Paul Revere and the Raiders, "Soul and Inspiration" for the Righteous Brothers, and "Saturday Night at the Movies" for the Drifters. Their hits in the '70s included Dolly Parton's "Here You Come Again," Dan Hill's "Sometimes When We Touch," and B.J. Thomas' "I Just Can't Help Believing" and "Rock and Roll Lullaby." Their remarkable series of hits in the '80s included James Ingram's "Just Once," Aaron Neville and Linda Ronstadt's duet "Don't Know Much," Sergio Mendes' "Never Gonna Let You Go," Peabo Bryson's "If Ever You're in My Arms Again," Diana Ross and Julio Iglesias' duet "All of You," and Chaka Khan's "Through the Fire."
Thinking back over these songs, it seems to me that the art of Mann and Weil changed over time - that their messages were subtler, more nuanced, and often more bittersweet in the '80s than they had been earlier. What never changed, however, was their wonderful ability to write simple, memorable lyrics, and to match them to beautiful melodies. I know every word of the songs mentioned above: I still sing along when I hear them on my car radio, and just reading their titles is enough to make me hum them for hours.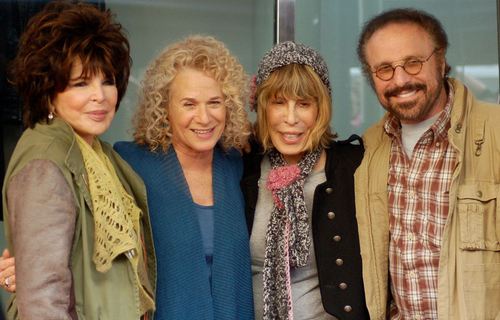 Carole Bayer Sager, Carole King, Cynthia Weil, and Barry Mann at the Hollywood Walk of Fame (2012).
Barry Mann and Cynthia Weil arrived in the music world at a time of transition, when both the nature of popular music and its primary audience were changing. They have achieved enormous success, including election to the Rock and Roll Hall of Fame, and authorship of a song - "You've Lost That Lovin' Feeling" - that has been honored as radio's most-played song of all time, with a staggering 14 million airplays. Curiously, however, I can't help feeling they might have gotten more attention if they had worked in an earlier time, that gave greater respect to great experimental songwriters. I would like to be able to read careful and intelligent critical analyses of the art of Mann and Weil - and Bacharach, and Goffin and King - like those I've read of Berlin, Porter, Rodgers and Hart, and Gershwin. I don't think these analyses are likely to appear: our society tends to privilege conceptual creativity, and overlook its experimental counterpart, in almost all domains. I do think many of us owe Barry Mann and Cynthia Weil a great debt, so let me just say that I am grateful that Mann and Weil began writing just when they did, so that I've been able to enjoy their music from 1961 until today.