Jul 30th 2015
Pricing Genius
Art world sophisticates often casually dismiss the market for art as irrational and arbitrary. The critic Robert Hughes memorably declared in 1978 that "The price of a work of art is an index of pure, irrational desire." More recently, in 2006, Sotheby's Tobias Meyer told the New York Times that auction prices could only be described as "magical." These experts often reject any measurement: in 1998 the scholar Robert Storr declared that artistic success "is completely unquantifiable." And anybody who claimed otherwise was dishonest: that same year the Guggenheim's Robert Rosenblum told the Wall Street Journal, "I immediately distrust anybody trying to detect patterns...in art, especially in terms of economics."
The experts are wrong.
Simone Lenzu and I have recently analyzed all auction records of sales of paintings by Jackson Pollock and Andy Warhol during 1965-2015 - a total of 160 paintings by Pollock, and a whopping 2,870 by Warhol. Regression analysis of these data indicate that Pollock's most expensive works were produced during 1948-50, when he was 36-38 years old, and that Warhol produced his most expensive works in 1962-63, when he was 34-35.
We compared these estimated peak ages to the evaluations of the artists' careers by experts, in two different ways.
First, taking all available textbooks of art history published in English since 1990 - of which we found a total of 61 - we distributed all the illustrations of the two artists' work by the date of those works' execution. The single year from which Pollock's work is most often illustrated in the books is age 38, while that of Warhol is 34.
Second, we distributed by the artist's age at execution all the works included in the two artists' most recent retrospective exhibitions - Pollock's at New York's Museum of Modern Art in 1998-99, Warhol's at Berlin's Neue Nationalgalerie and London's Tate Modern in 2001-02. The single year represented by the largest number of works in the Pollock retrospective was age 36, while that for Warhol was age 34.
The striking agreement of these three very different sources clearly demonstrates that there are strong patterns in art. The auction market places Jackson Pollock's peak at 36-38, textbook illustrations place it at 38, and his latest retrospective places it at 36. Andy Warhol's most expensive paintings were done at ages 34-35; textbook illustrations place his peak at 34, and his latest retrospective does the same.
If you think these results are not random, you're right. There is a consensus among art scholars that Jackson Pollock produced his greatest art during 1948-50, when he was at the height of his mastery of the drip technique. There is equally a consensus that Andy Warhol made his greatest contributions in 1962, when he first used mechanical techniques to make visual images from photographs.
Autumn Rhythn (1950), Jackson Pollock's most frequently illustrated painting.

Image courtesy Metropolitan Museum of Art, New York
Experimental innovators work by trial and error toward imprecise esthetic goals. Jackson Pollock spent nearly two decades working toward a new way of making the large paintings that he believed were the future of art. At 35, he arrived at his novel drip technique, and spent several more years developing it before he produced the monumental masterpieces for which he is celebrated today. In contrast, conceptual innovators arrive suddenly at novel ways of expressing specific ideas. Andy Warhol decided to become a painter only after he spent a decade as a successful commercial illustrator. Within barely two years of his decision, he was making photographs into paintings using mechanical printing techniques. These early paintings, which would influence generations of young artists, were the most important ones he would ever make.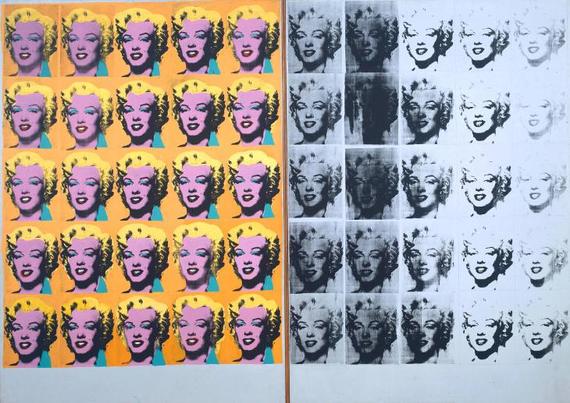 Marilyn Diptych
(1962), Andy Warhol's most frequently illustrated painting.
Image courtesy of the Tate Modern, London.
Great artists are innovators; great works of art are those that embody their innovations. Age-price profiles estimated from auction sales agree closely with the judgments of art scholars as to when the two greatest artists born in the 20th century made their greatest contributions. Contrary to the claims of art experts, art markets are not irrational. As James Stewart recently put it, art markets allow collectors to invest in genius, and collectors do so systematically: the most innovative works of the most innovative artists bring the highest prices.
Related article:
by Ahmed Elgammal
Added 31.07.2015
From Picasso's The Young Ladies of Avignon to Munch's The Scream, what was it about these paintings that arrested people's attention upon viewing them, that cemented them in the canon of art history as iconic works? In many cases, it's because...

To follow what's new on Facts & Arts,
please click here.
For links to Amazon for David Galenson's books, please click picture below.