May 15th 2015
Velazquez in Paris
Diego de Velazquez, the greatest of court painters, ironically was an unlikely candidate for that job. The prototypical court painter was a conceptual artist who could present detailed sketches of his paintings in advance for a patron's approval, execute his works in a timely fashion, and flatter his sitters. In contrast, Velazquez was a fundamentally experimental painter who could not preview his works with preparatory drawings, nor finish his paintings on schedule, and was too committed to visual accuracy to beautify his subjects. But Velazquez had vast talent, that was so obvious even early in his career that he was appointed to the court of Philip IV when he was just 24 years old. His strong friendship with the king, combined with the growth in the quality of his work over time, meant that he had a secure position for the rest of his life.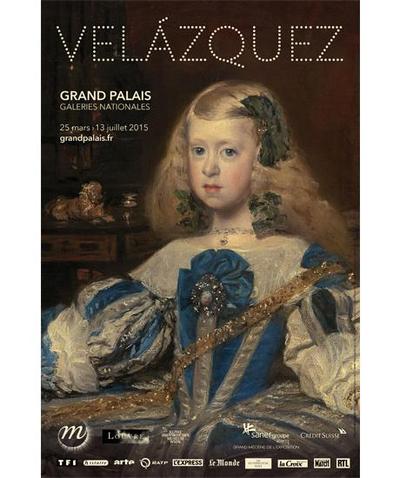 Velazquez retrospective poster; Grand Palais, Paris.
Even in his earliest works, Velazquez painted real people: the characters in his early religious pieces are not idealized visions of sacred beauty, but obviously models who stood in front of him. Nor did chubby angels fly around the Virgin, as in similar canvases by his contemporaries; even in the most stylized early works, it seems that if Velazquez didn't see it, he didn't paint it.
Velazquez gained his position at court through his talents as a portraitist, and these talents undoubtedly explain why Philip would select him as a court painter in spite of his unwillingness to flatter his sitters. In an era long before images from lenses could be fixed, Velazquez' patrons must have been amazed by how real his sitters appeared - not only their faces, but their clothing, as the black suits and robes of his aristocratic subjects are painted with a touch that brings to mind another 17th-century master, Frans Hals. And the highlights of gold on the fringe of a royal robe sparkle like those in a Rembrandt portrait. It is not in the least surprising that Seymour Slive classed Velazquez with these two other 17th-century masters in their feeling for the medium, as he wrote of Hals that only Velazquez and the late Rembrandt "exploited the viscosity of oil paint with equal ingenuity."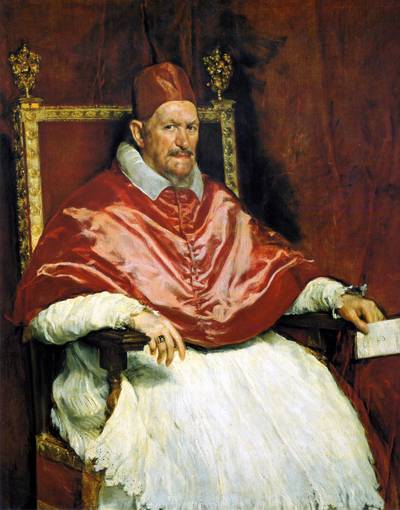 Portrait of Pope Innocent X by Velazquez (1650).
Image courtesy Wikimedia Commons.
During a visit to Italy in 1650, the mature Velazquez painted the portrait of Pope Innocent X. In this magisterial work, the pope gazes intently - warily, even grudgingly - at the artist. Perhaps even he realized that the painting would eventually gain fame not because of the greatness of the sitter, but of the painter. Popes come and go, but great artists are rare.
Velazquez died suddenly, at the age of 61. He was a wealthy man, and perhaps for this reason, his last self-portraits do not give the same sense as those of Rembrandt, that the artist had had to endure and overcome hardship and suffering. Unlike Rembrandt, who in his early 60s looked much older than his true age, Velazquez at 60 looked much younger than his six decades. Velazquez' last self-portraits show a proud man almost untouched by time, but they have much of the penetrating insight and depth of character of the late self-portraits of Rembrandt. Few artists have come close to this achievement.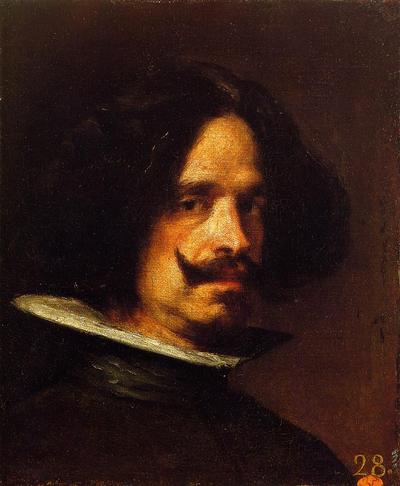 Self-portrait of Diego Velazquez (ca. 1640).
Image courtesy Wikimedia Commons.
Velazquez founded no school, and had few followers. He did not create a style or personal manner. His art was based on the way he saw, and the genius with which he translated that vision into paint. It was difficult, perhaps impossible, for other artists to try to follow these without simply copying. But he was a great painter, with a profound influence on the development of his art, for the inspiration he gave to later artists - the example of honesty, clarity, and virtuosity. Two centuries after his death, Manet visited Madrid and reported to Baudelaire, "I tell you he's the greatest artist there has ever been." Another century on, Francis Bacon based a series of major works on the portrait of Innocent X, explaining to David Sylvester that "I've always thought that it was one of the greatest paintings in the world, and I've used it through obsession."
Gaining admission to Paris' Grand Palais is an exercise in French bureaucracy, requiring as much as an hour on line even when one has bought an advance ticket for a (supposedly) specific time. But once inside, the Velazquez retrospective, which contains nearly half of the artist's total output of canvases, is superb, for the opportunity to spend time with one of the most skillful and sophisticated artists in the entire history of western culture.
To follow what's new on Facts & Arts,
please click here.
For links to Amazon for David Galenson's books, please click picture below.